RIDING LESSONS
Quality School Horses + Experienced Instructors = One of Ontario's best known Riding Schools offering year round lesson programs for Novice, Intermediate or Advanced Riders.
Introduction to Riding
We welcome riders with little or no previous experience with riding. Courses designed for both Youth and Adults to gain confidence through our "hands-on" complete horsemanship experience.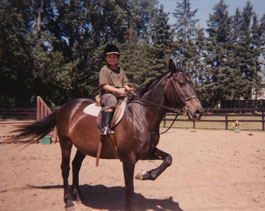 Day Camps
Our popular Day Camp Programs offer small riding groups and horsemanship activities tailored to each rider's previous experience with horses. The Christmas Camp, MarchBreak Camp and Summer Weekly Camp sessions are for youths ages 8yrs to 15yrs. With our indoor arena, bright, open stable area, classrooms and viewing rooms, the whole camp program can take place Rain or Shine! For the Summer Weekly Sessions, bus transportation to and from camp is available for those in the Brampton area. If you require bus transportation, please see Summer Riding Camp through The City of Brampton Parks and Recreation.
Horse Shows
We offer a unique series of Horse Shows focusing on English Equitation where all riders in the Riding School are welcome to compete in classes suitable to their own riding skill level.